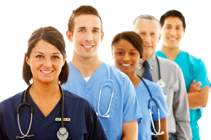 If you are a health care professional, you have come to the right place for more about what we are doing to make health care careers more rewarding. As experienced health care professionals ourselves, we know that you have a choice when selecting a staffing agency to represent you.  When you select an agency with high standards, we know that you hold high standards as well. Per Diem Nursing is dedicated to providing the highest level of service regarding how we work with our healthcare providers. In return, we expect the same level of professionalism from whom we hire and place in jobs. Our goal is to treat all professionals with respect, and show you the attention, service and support, that you deserve when you select us to represent you. We take our job seriously, and at Per Diem Nursing, we are there when you need us!
Per Diem Nursing is recruiting now! We are in need of RN's, LPN's, and CNA's who want flexible hours and earn premium pay. Per Diem Nursing is one of the few nurse staffing agencies who offers multiple paydays each week. Apply now by completing our Online Application and start earning top pay right away!
Please contact Per Diem Nursing at any time if you have questions or would like further information or click here to fill out an employment application with Per Diem Nursing.